After I watched the trailer for the 1996 classic ReTread, I paid $10 and downloaded the full 90 minute movie.  Bar ends, grip shifts, zero suspension, disc-less brakes and narrow handle bars abound in the film that shows how spoiled we are today!  I enjoyed watching all the various differences between today and 17 years ago.  In some ways, the film is more engaging than the constant eye candy action of today's flicks.  The POV shots in the film struck me as being as good if not better than some of what we saw in From the Inside Out.  However, as with all films like this I have trouble with the lack of story and schizophrenic segments.  Not sure why the snowboard/ski scene was added in, however the segment with Brian and Alan Foster racing each other on a board and bike is really cool!  Overall ReTread is well worth $10.  Go and get it!
The film features Missy Giove on her path to retain her World Champion status. In addition to the action of the competitive downhill scene, ReTread visits the worlds of John Tomac, BMX's legendary Foster Brothers, and trials rider Libor Karas… among others. For giggles, the film also includes random placement of skiing and snowboarding with Noel Lyons and Brian Delany. Filmed on location in Durango, Mammoth, Vail, Miami, Baja, Austria, Germany and Nepal. The Film also follows the 1995 Downhill Mountain Bike World Championships.  Produced by Oak Creek Films, Inc. and Treadworks, LLC
Hi-lights
The board vs. bike race (very nice editing)
Libor Karas biking on an airplane
The hardcore racing and riding on hardtails
POV shots
The full coverage of downhill, trail riding, trials, dirt jumping and bmx
Missy Giove's storytelling
Lo-lights
snowboarding / skiing segment (why?)
P.S.
When Danny MacAskill  was 9 years old, Libor Karas, the Bouncing Czech, was winning world championships.  Here he is on the Conan O'Brien show with various clips cobbled together.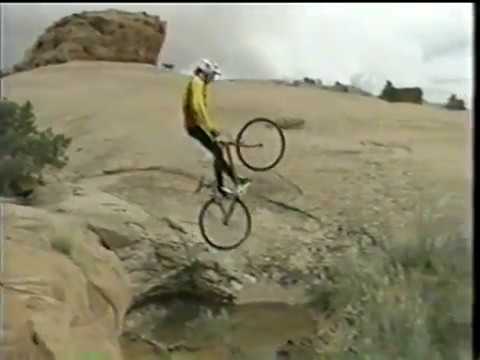 If you ever wondered what happened to bar ends, check out the forum on mtbr.com.
For a bit of fun visit the budgetbicyclecenter on ebay.  They sell vintage mountain bikes with loads of photos so you can see all the great old components.  My favorite bike they have listed is the 1995 Trek Y22…looks like a beast!  Also, visit http://www.retrobike.co.uk.
Wouldn't it be cool if someone sponsored a race of today's champions, but they had to ride vintage bikes!?